Family run business since 1992
First opened in 1992 by Linda and Gerry Harkin, the pub had previous names including The Harbour Lights, Arthur G's, and Arthurs, before becoming The Old Harbour, Harkin's. Locals still use the previous names to refer to the pub.
Parents to 4 Boys and 1 Girl, all the Harkin children have served thier time in the business, along with some of thier own children (Linda and Gerry's grandchildren)!
The business has stood the test of time, going through many makeovers, and challenges including recessions, strikes, and most recently the COVID Pandemic when they ingeniously switched to a take-out service- keeping all staff in full employment throughout.
The secret? "Good quality products and service at a reasonable and fair price"
It has been described in a previous international review as "A hidden gem, located in the heart of Dublin, right next to Ireland's biggest tourist attraction- The Guinness Storehouse. Full of friendly people and REAL Irish culture, not the tourist targeted type. It was the one place we will be advising our friends visiting Dublin to spend more time in as we regretted finding it late on our trip. We didn't want to leave!!"
Why 'The Old Harbour' Name?
Many years ago, the corner of Grand Canal Place was a fully functioning harbour, to transport via barges the many barrels to/from the Guinness Brewery.
When road transport became more prevalent, the Canals were dried up, and eventually the Irish Light Rail Transport 'The LUAS' had tracks installed along their route.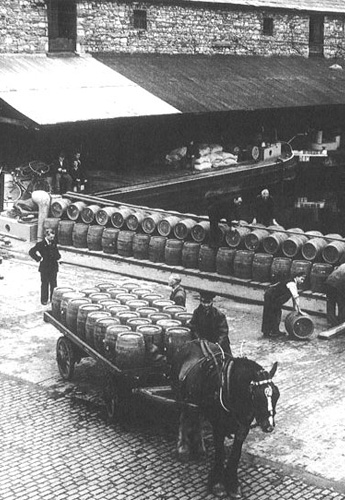 A LOCAL FAVOURITE PUB
Harkins Bar Dublin 8 is the closest pub to Dublin's famous Guinness Brewery. We're proud of the rich history behind these walls, in particular, the pub's connection to the renowned Irish writer, Brendan Behan. We're located just a 2 minute walk from the Guinness Storehouse, where a perfect Guinness and friendly bar staff await you! You won't experience a welcome like ours anywhere else! Have a chat in Harkins Bar Dublin 8 with our Irish bar staff and meet the friendly locals, while you enjoy the perfect pint in historic surroundings.